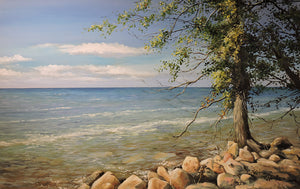 Paintings to Order
Tree on Point Pelee Shore
Sale price Price $1,080.00 Regular price
Oil on Canvas
24" x 48"
Unframed canvas, ready to hang.
Although I was born in California I grew up in Windsor, Ontario and one of our favourite family destinations was and is to Point Pelee National Park. A few years ago the family made another trip to the most southern point in Canada. This tree was pretty far out on the shore line growing in the rocks and sand. I love the peace of this composition, the warm clean colours of that day.
I've left the slim canvas unframed but prepared the back ready to hang.